JOIN US & GET 10% OFF YOUR FIRST ONLINE ORDER
KEEP SAFE & WELL EVERYONE - WE WILL SEE YOU ALL AGAIN SOON! TAKE CARE OF EACH OTHER love from Helen & Danny (Mum & Son) xx
ASSYNT AROMAS CANDLE SHOP & THE SECRET TEA GARDEN DRUMBEG, SCOTLAND
Assynt Aromas Candle Shop
Come along and discover a shop packed with a luxurious handmade range you cant buy anywhere else and a beautiful hidden Tea Garden. Owned and operated by Mum & Son team Helen & Danny.
A warm welcome awaits.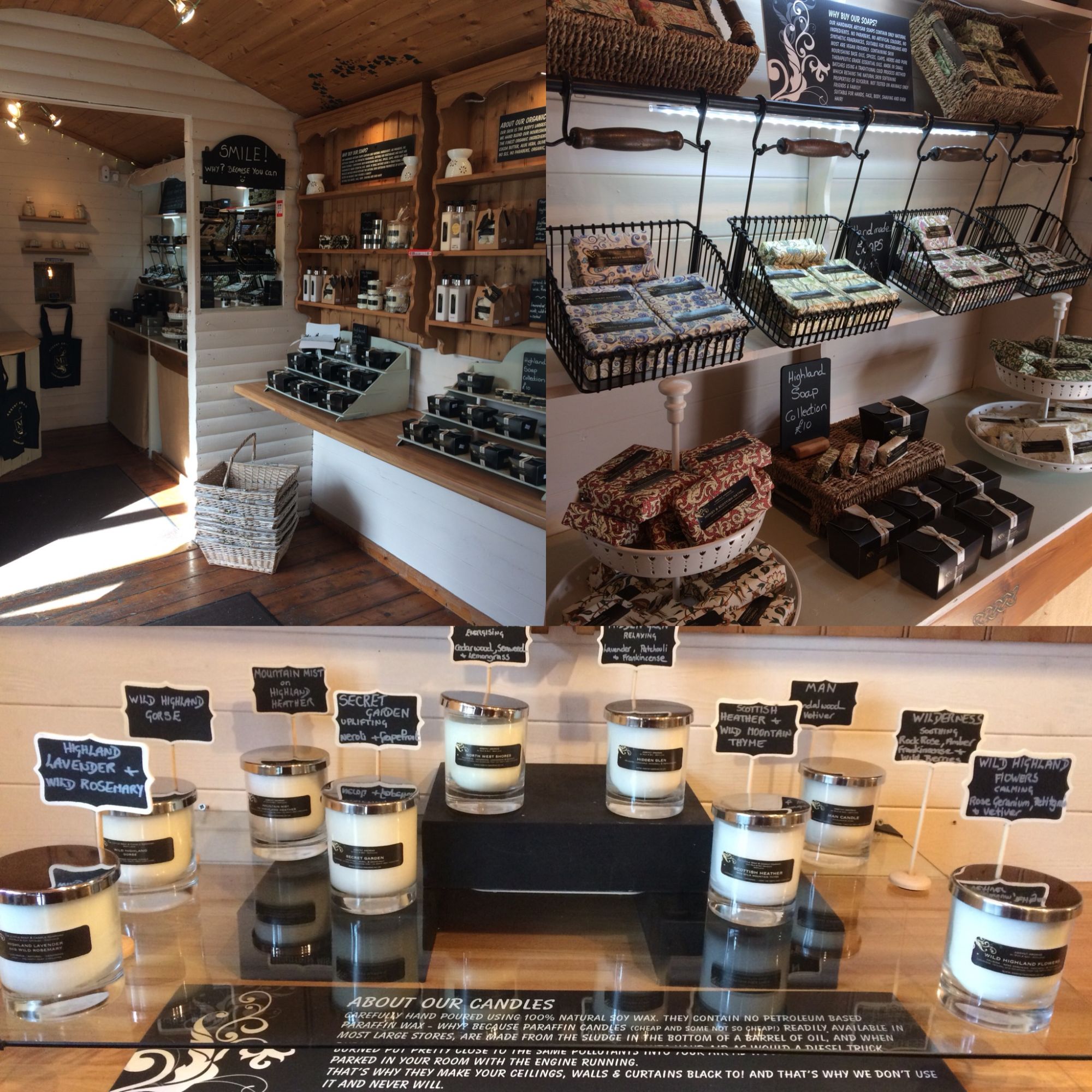 Bring the Scottish Highlands in to your home with candlelight and beautiful aromas by Mum & Son @ Assynt Aromas .....
.
For almost 20 years our passion has been our natural product range ... all handmade with love
Browse or smell your way around our wee Candle Shop. Packed full of our beautiful natural products. We have lots of 'testers' for you to try, and samples to smell.
Taking our inspiration from the breathtaking area we live and work in. We use the finest ingredients nature has to offer, including pure essential oils for their glorious scents, real herbs, flowers and fabulously nourishing skin loving oils and butters.
Our candles are hand-poured 100% soy wax. Soaps are handmade using a cold process tequnique and our creams & lotions contain beautiful organic ingredients.
Our products are exclusive to us - we don't make our range for anyone else or supply other shops.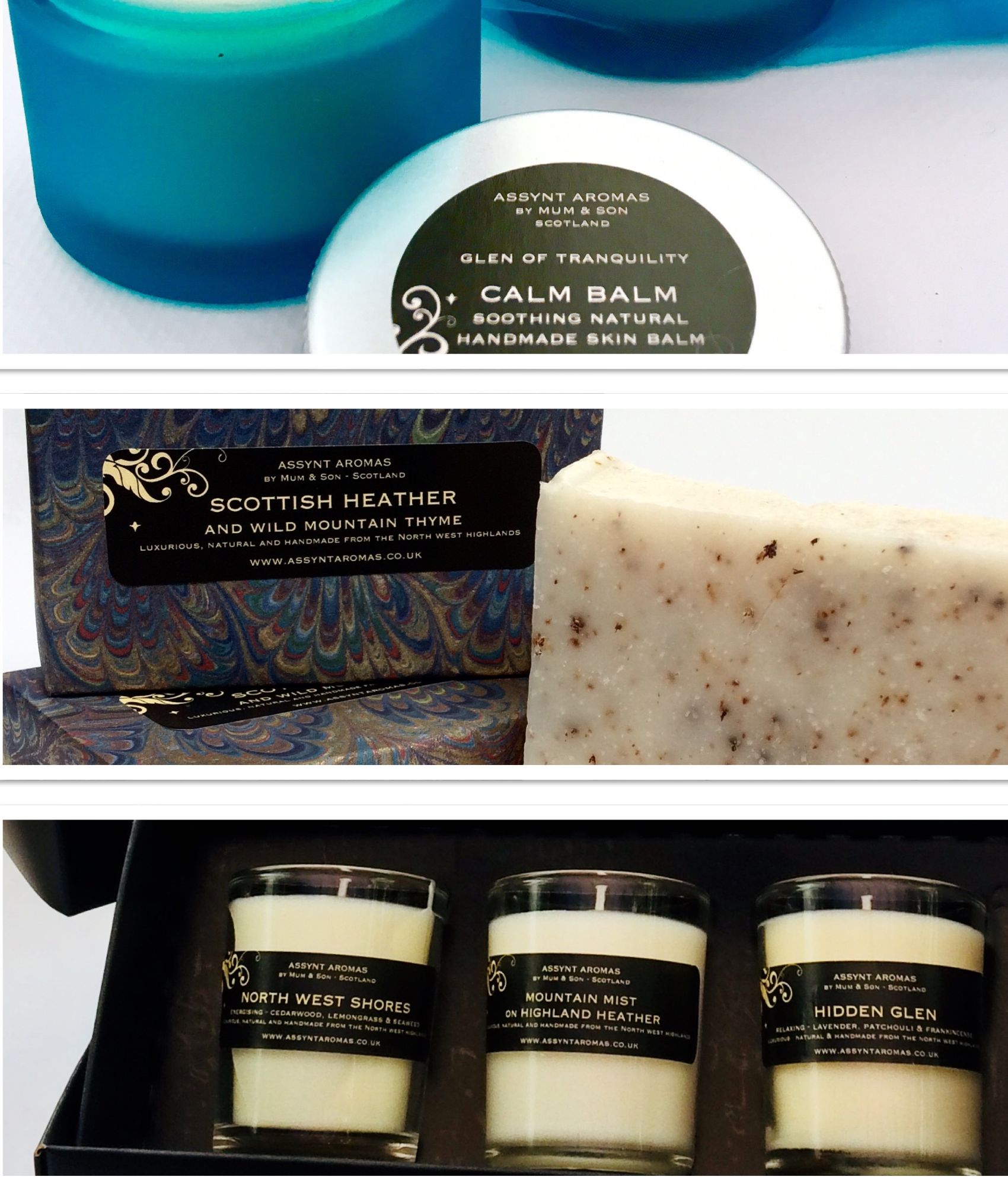 EAT, DRINK, RELAX .......
Take a look out of the back door of our Candle Shop and you will discover The Secret Tea Garden @ Assynt Aromas.
Sheltered and covered with a canopy of rain proof parasols our garden is a great place to relax in all weathers. Enjoy a clotted cream scone or choose from a great selection of delicious cakes. For those looking for something savoury try our choice of Highland Cheeses, Smoked Salmon with cream cheese or pate with Scottish Oatcakes, for vegetarians and vegans we have delicious roasted red pepper houmous ... Coffees, Tea and cold drinks including our deliciously refreshing Homemade Lemonade are all on offer PLUS our 'famous' fully loaded hot chocolates pilled high with whipped cream and finished with a chocolate flake and chocolate sauce ... a must for you chocoholics out there!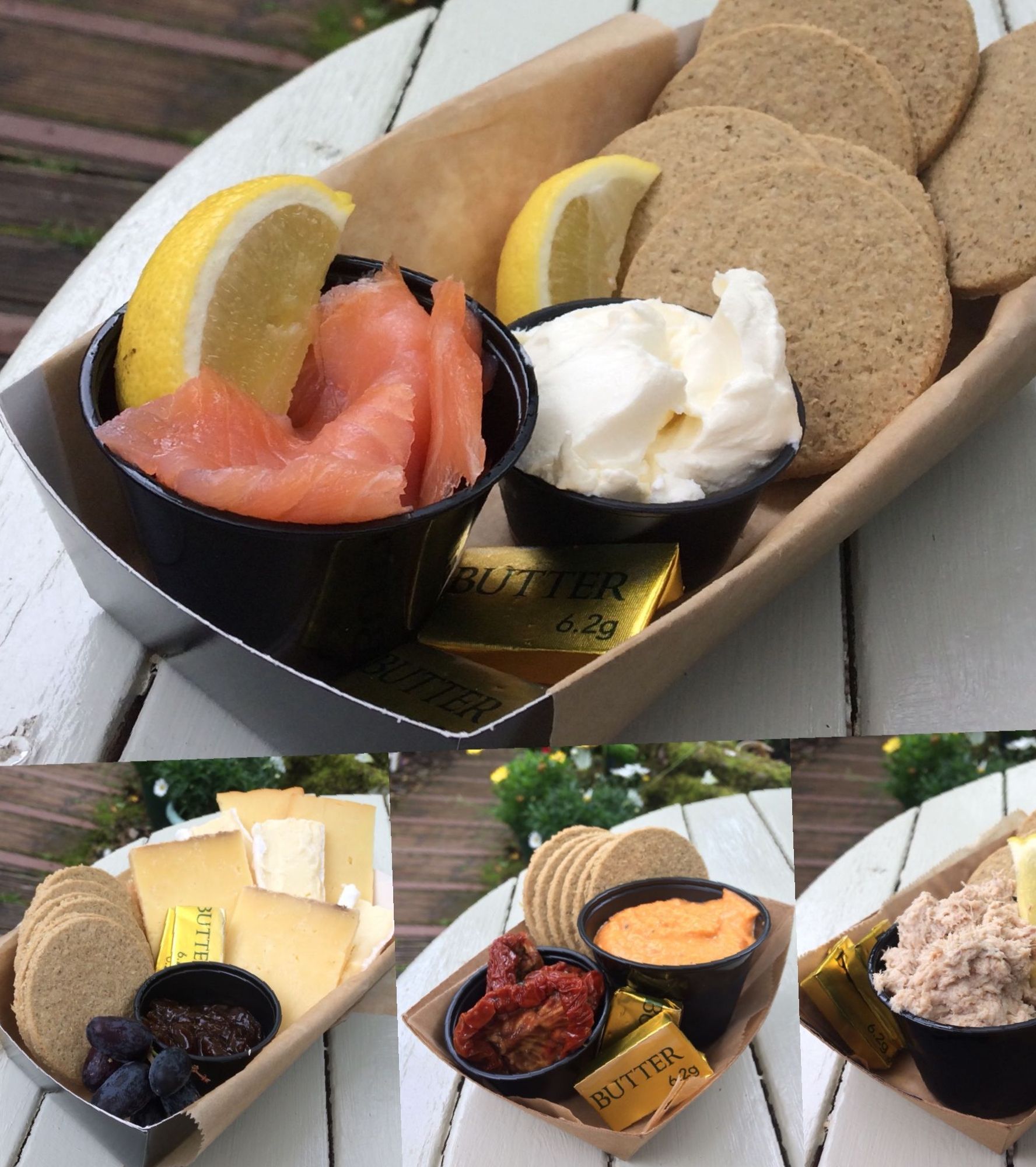 "The Coast road north is absolutely eyes on stalks beautiful. This is - and I will take no argument on the matter - by far the most beautiful place on earth." Jeremy Clarkson while filming the Grand Tour in Assynt, Spring 2018
Find us in the tiny highland village of Drumbeg, half way along the B869 coastal road, part of the 'famous' NC500 route. We are a perfect 'stopping off' point along the 23 mile single track road. Situated in the North West Highlands, you can find us on the part of the map where the land breathes magic and the sea starts to flow over the edge of the world. Surrounded by remote unspoiled white sand beaches, breathtakingly beautiful mountain scenery and magnificent coastal views.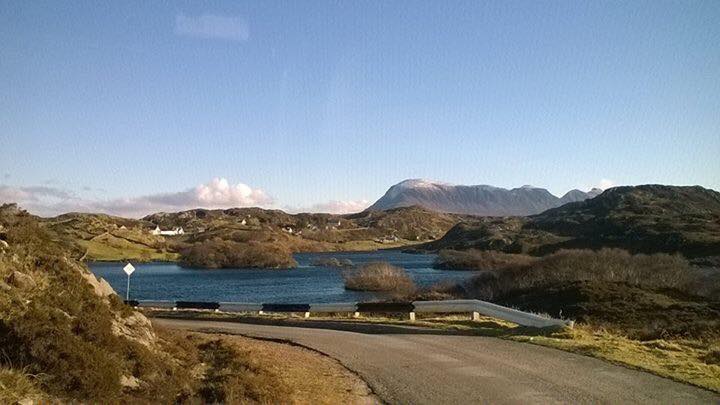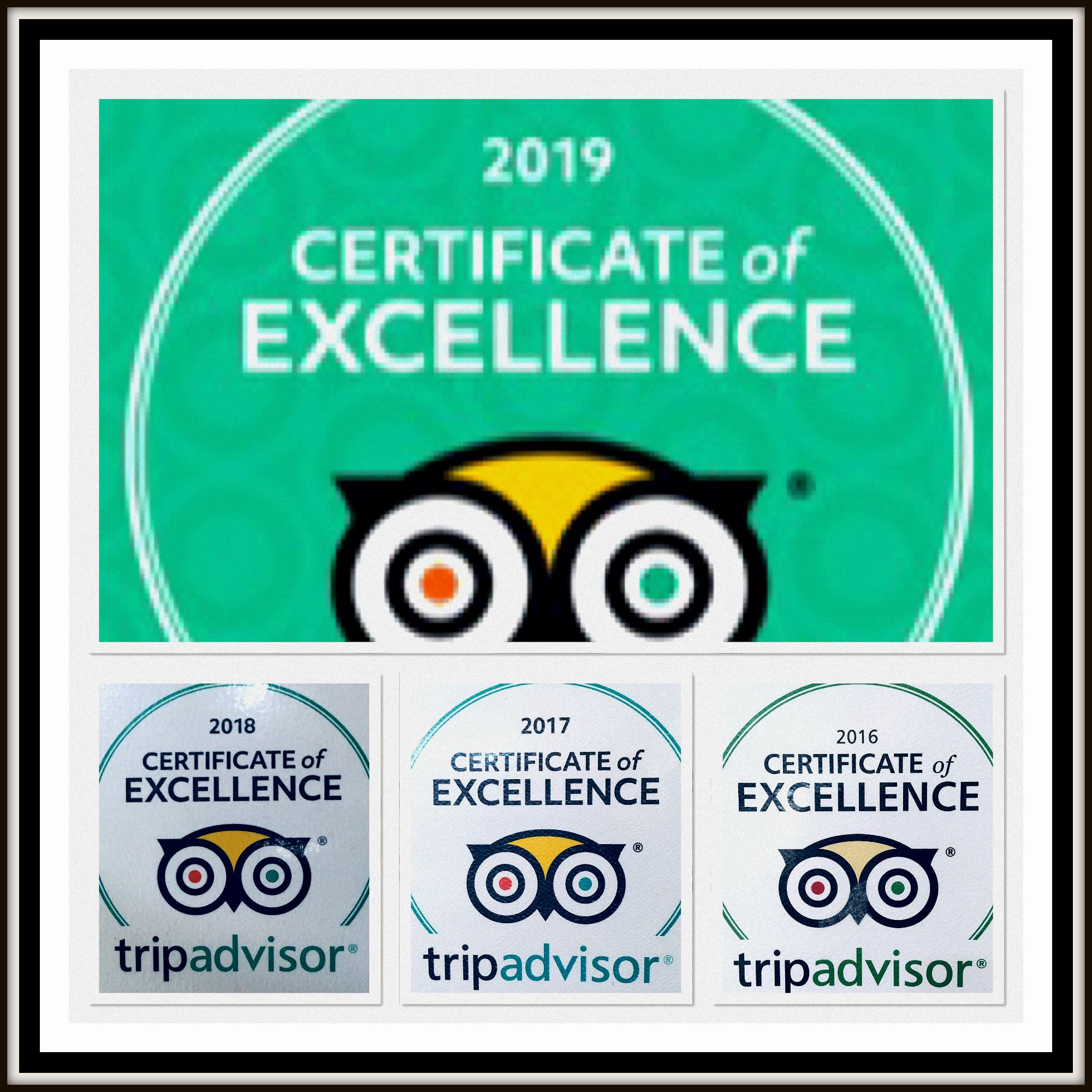 There is free roadside parking available just across the main rd from us for cars, motorbikes and small camper vans, just follow our signs. Its a very short stroll from us. We have room for a couple of vehicles directly outside our shop but these spaces are restricted to visitors with limited mobility. There is ample parking at Drumbeg viewpoint car park 300m away, the public loo's are also situated here.
Please park motorhomes at the viewpoint carpark
Our Online Shop is open all year. UK & Worldwide delivery.
*
We open our Candle Shop & Secret Tea Garden to visitors seasonally from Easter - late Sept.
April & Sept: Sun - Thurs (closed Fri & Sat)
May, June, July & Aug: Sat - Thurs (closed Fri)
*
Oct - March - We are closed to visitors - however if you are in the area you can still shop with us via our FREE 'CLICK & COLLECT' SERVICE. Choose from 2 pick up locations Drumbeg or Lochinver. Simply place your order on our online shop and select pick up during checkout.
Can my dog come in the Tea Garden?
As our business is also our home and home and territory to our cats and dog. We operate a NO DOGS policy. We do however have a comfortable doggie parking area at the front of our business, where we provide a water bowl, dog bed and a secure place to tie a lead. If you prefer not to leave them we also have benches and a table here so you can enjoy coffee & cake with them
We are a WiFi Free zone
NO Wifi
NO Mobile signal
Relax, Enjoy the moment & talk to each other
Read our
TRIPADVISOR REVIEWS
Join our email list
get 10% OFF your first online order
Click on this text to start editing, and enter your own text with some basic formatting. To create a link to another page or website within this section, select the text you want to make into a link and click on the Link icon on the formatting toolbar. Click anywhere outside the text box when you're done to continue working on the rest of your page.
To change the appearance of a block, such as the way in which it is laid out and the width of its columns, click on the Change Layout button on the block toolbar, to the right of each block. You can show and hide many of the elements that make up a block by clicking Block Settings on the right hand toolbar and going to the Elements tab. In Block Settings you can also change other aspects of how a block looks, including margins, colours, animations and background images.
You can change the order that blocks appear on your page using the up and down arrow buttons on the right hand toolbar, or you can drag the entire block using your mouse.
This image is sized based on content height
This is a Text & Full Image block. Click on this text to start editing and enter your own text with some basic formatting. Just click anywhere outside the text box when you're done to continue working on the rest of your page.
Hover your mouse over the image opposite to show the image toolbar. Image Settings lets you choose an image from your library, or upload a new one, and change related settings. On this block the image will size automatically based on the height of this content, filling the available space.